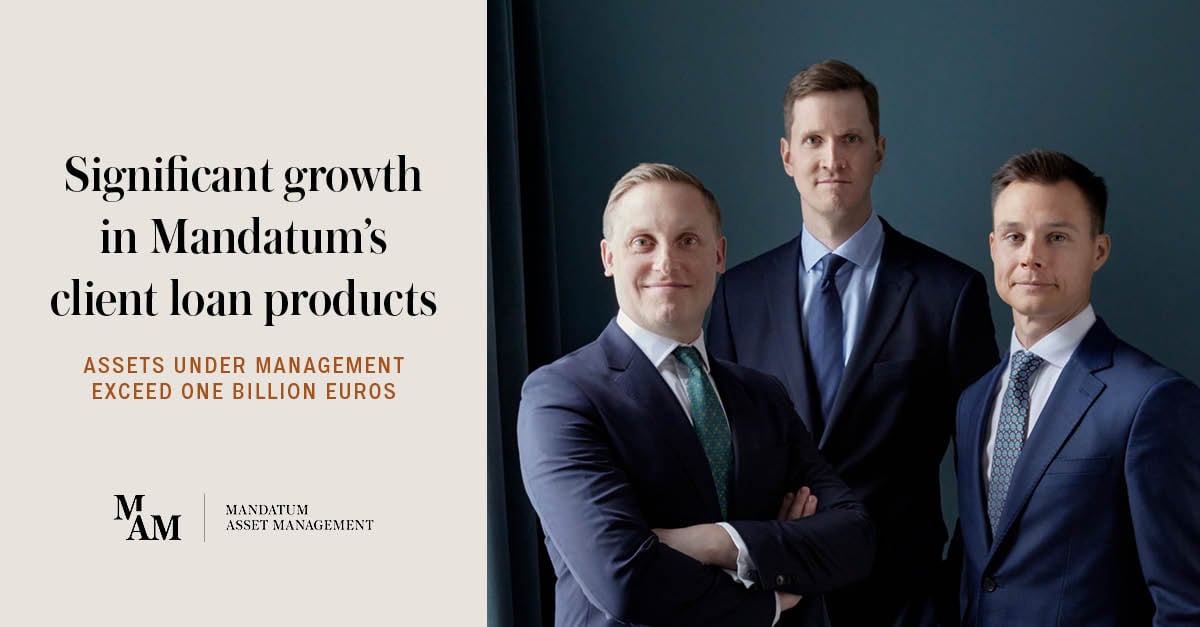 The assets under management of Mandatum's client loan products exceeded the one-billion-euro threshold at the end of September. Leveraged loans are a sizeable asset class, and Mandatum is one of the leading investors in the Nordic markets.
Read more: Press release 6.10.2023: Mandatum's assets in client loan products exceed one billion euros
The rise in interest rates has increased the attractiveness of Mandatum's loan products, and over the past four years, the assets under management of its strategies investing in European leveraged loans have grown by almost 600 per cent.
Senior secured loans, or leveraged loans, offer investors a lower interest rate risk as floating rate instruments and an opportunity to improve the diversification of their portfolios. The European leveraged loan market is a non-public market, accessible only to institutional investors established in the market.
"Exceeding the one-billion-euro mark in assets under management is a significant milestone for us. This growth reflects investors' increased interest in loan products and our clients' strong confidence in our strategy", says Portfolio Manager and Head of Leveraged Finance Alexander Gallotti.
Leveraged loans are a large asset class based on size alone, and Mandatum is one of the leading loan investors in the Nordics. The market is also distinct in terms of issuers, and it is not covered by other asset classes or instruments. Mandatum has been offering its clients loan products for more than seven years and has experience from the asset class since 2008 onwards. The strategies are managed by an experienced portfolio management team and investment committee with long and extensive expertise in both loan and fixed income investing. In addition to the analysts on the team, the portfolio management team has access to Mandatum's extensive legal, responsible investing and support professionals, as well as a network of contacts built up over the years. The team's defensive, but also return-seeking, approach has focused on capital preservation from the outset. Thorough credit and ESG analysis are part of a selective, bottom-up investment process, and investments are actively managed throughout their lifecycle.
Read more about the asset class here.
"The current yield-to-maturity of Mandatum's loan strategies remains attractive on an absolute and relative basis from a risk/return perspective, and the gross returns in 2023 have been very strong even in a turbulent market. In our scenario analysis, the yield-to-maturity provides a strong buffer against a potential negative outlook, for example, in the economy and in the performance of underlying companies", Gallotti states.
___________________________________________
This newsletter or release is meant for information and marketing purposes only, and the information provided cannot be construed as a recommendation to subscribe for, hold or exchange certain investment objects or carry out other investment activities. Mandatum has made every effort to ensure the accuracy of the information presented, but does not guarantee its accuracy or completeness, nor does it bear responsibility for any possible errors or deficiencies it may contain.